When there are hundreds of new tokens hitting the exchanges like Uniswap or PancakeSwap everyday it can become a bit overwhelming on what to do with all this information
We've got a few recommendations how you can use ListingSpy to help you spy hidden gems and good runners for awesome gains!
Tip 1 — Follow the Volume
Sort tokens by highest volume. Volume is key as it shows you where money is flowing into. Low volume tickers mean that people aren't trading them, and will also have issues with trade liquidity. High volume tickers on the other hand will be on everyone's radar and make it easy to get in and out of trades.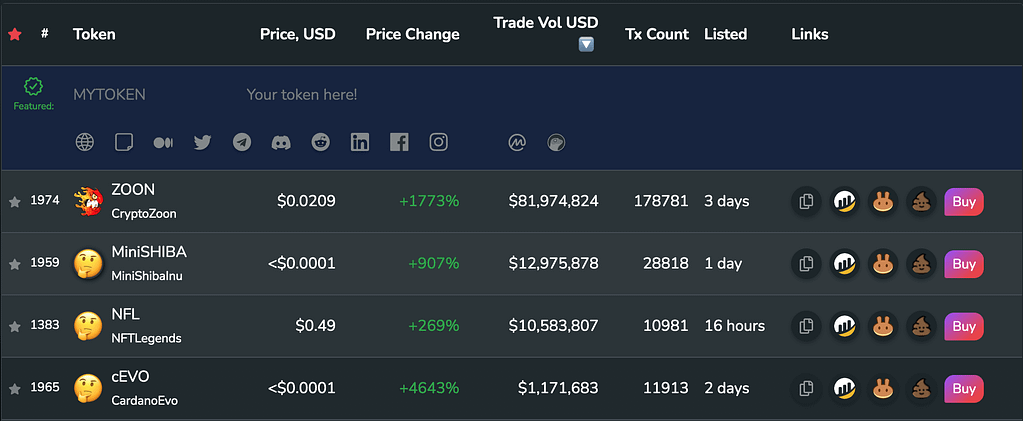 Tip 2 — Use the Dashboard to find the most recently listed tokens.
Head over to the dashboard and sort the tokens by time listed. Once you've done that consider tokens that have a minimum of 100,000 USD in trading volume.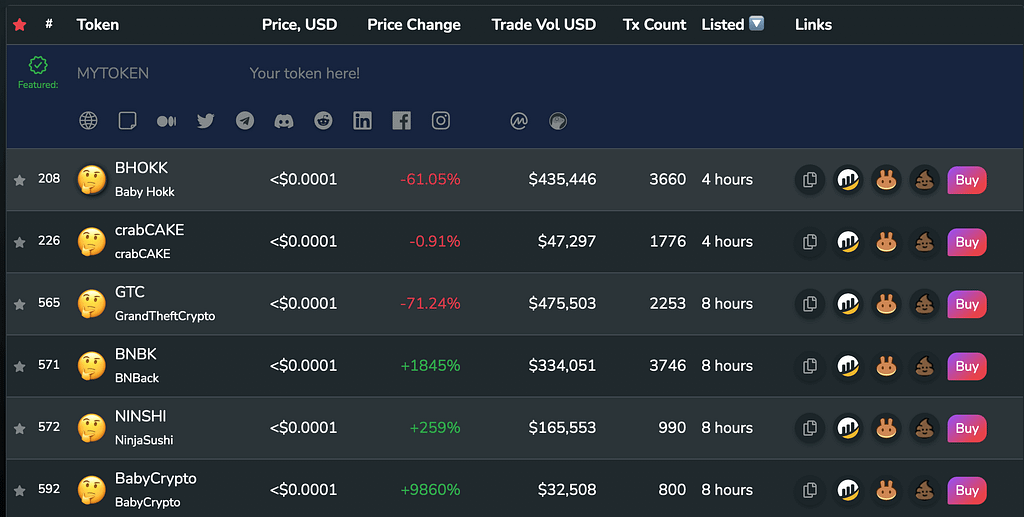 Tip 3 — Sort Tokens by % Price Gainers
After you've sorted by the highest price gainers, look for tokens with high volume and large price increases. Make sure to check their price charts and look for a good entry.
NOTE — Make sure to check the transactions and avoid tokens that have no selling.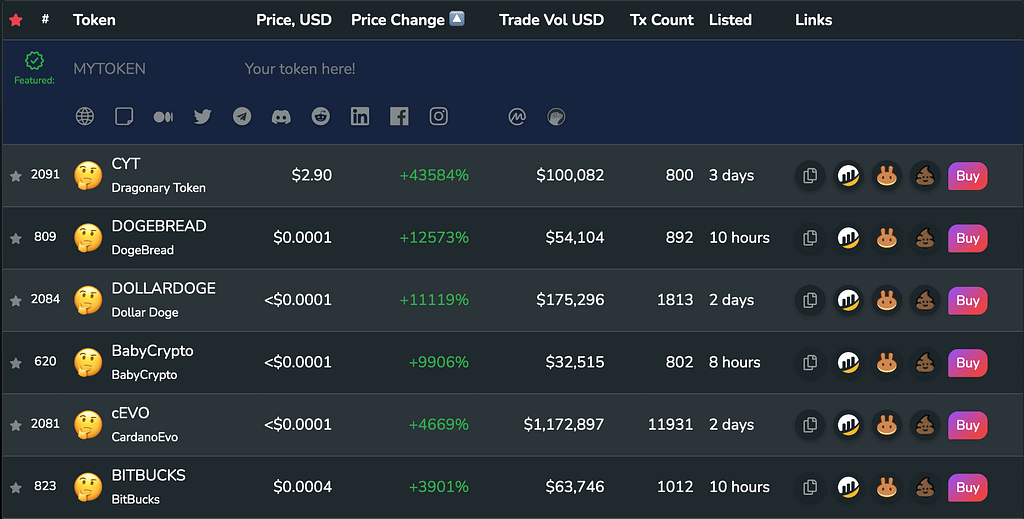 Tip 4 — Read time and sales (TXs)
Being able to evaluate the transactions, buys and sells, will go a long way towards seeing the strength of the token. Look for lots of buying action, and make sure to pay attention to the size of the buy orders.
Buying pressure with large buys and little selling is often a sign of strength, but beware of honeypots and other scams!
Tip 5 — Use Social Sentiment!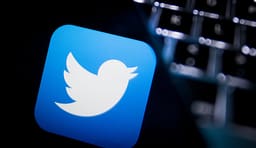 Get on twitter and see what people are saying about the token, check to make sure reputable people are talking about it. If no one mentions it, probably best to stay away.
Tip 6 — Search for the token's official Telegram group
Search for the token's name on Telegram. You might find the official group for the token or other groups where people are discussing the token. This falls under the due diligence category.
Contract address of the token is typically pinned in the official group, or you can ask admins for it. Scam groups are also often created (even with thousands of fake users/bots), and they try to convince you that they are the real ones, and will lure you to their fake smart contract addresses. You can easily buy into that, if you don't pay enough attention and don't spend enough time on your research.
The more you search and investigate the better, and this is one easy method to find out more about a project, network, and discuss with others about potential tokens you've found.
Tip 7 — Consider Liquidity

Liquidity is a vital ingredient to trading and finding good tokens. Some consider it more important than trading volume, at least when it comes to these low cap tokens.
High liquidity is vital! Why, you ask?
Low liquidity will result in not being able to sell the token, which will leave you bag holding. It also makes trading difficult, as there may not be enough liquidity to match trades across the automated market maker.
Furthermore, if you sell a large quantity of tokens the price impact will be significant, resulting in the average price being less favorable.
The extreme example of this is $0 liquidity, when developers/contract owners, remove liquidity and you can't sell the token that you bought. That's a classic "rug pull", which all crypto gem finders experienced, and are trying to avoid of course.
Tip 8 — Use The Charts
Have a look at the price chart, if the price is making higher lows with small dips being bought up, the price action is very strong!
If however it's moving down, or the price moves up very quickly without any consolidation (dips), that might be a warning sign that a dump will come sooner or later.
Here is an example of a nice looking chart- Notice the small dips followed by newer highs?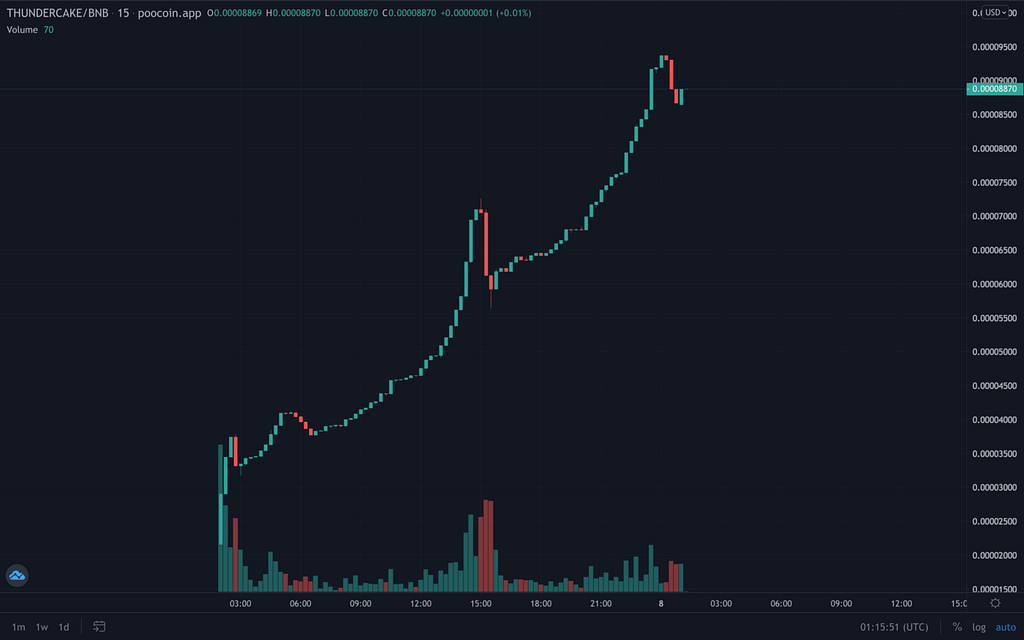 OR
If you're too late to the party and miss the initial pump, it's best to avoid it or wait.
Here is an example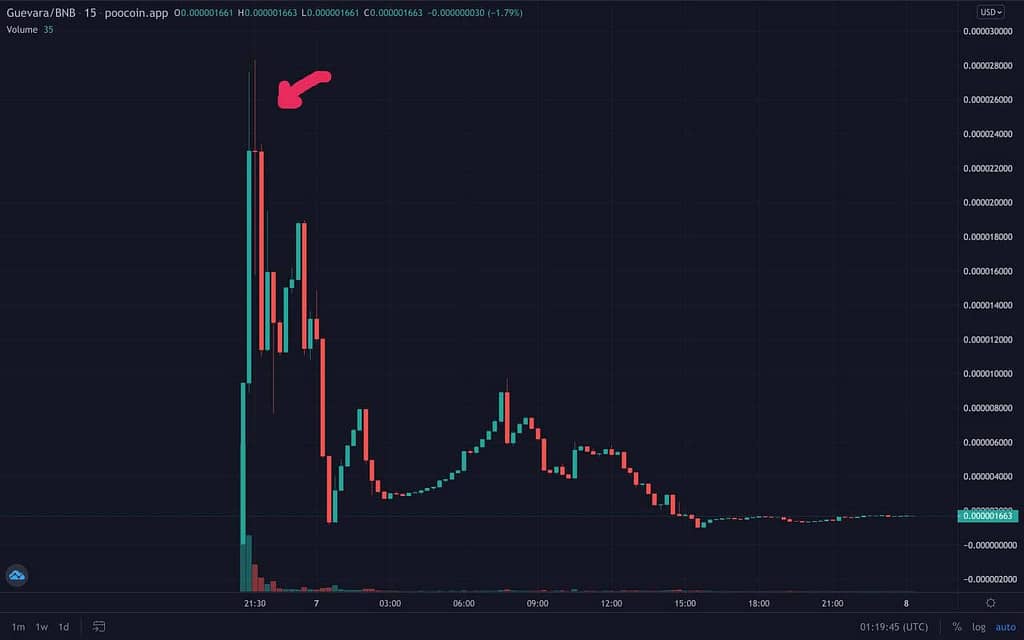 Notice how the price went straight up without any small dips? Expect the price to come right back down after this type of action.
Notice how there are two candles that hit the same price, but don't go higher (arrow), this is usually a sign of the price topping out.
So if you miss the pump, it's usually too late.
Tip 9 — Wait for a dip or consolidation
Coins that pump will eventually come down and consolidate, if you were late to the party wait for the price to bottom out and show a reversal.
Many price graphs will look like this one; an initial pump followed by a sell off and eventually a reversal, where the price starts making higher lows and the trend starts moving upwards.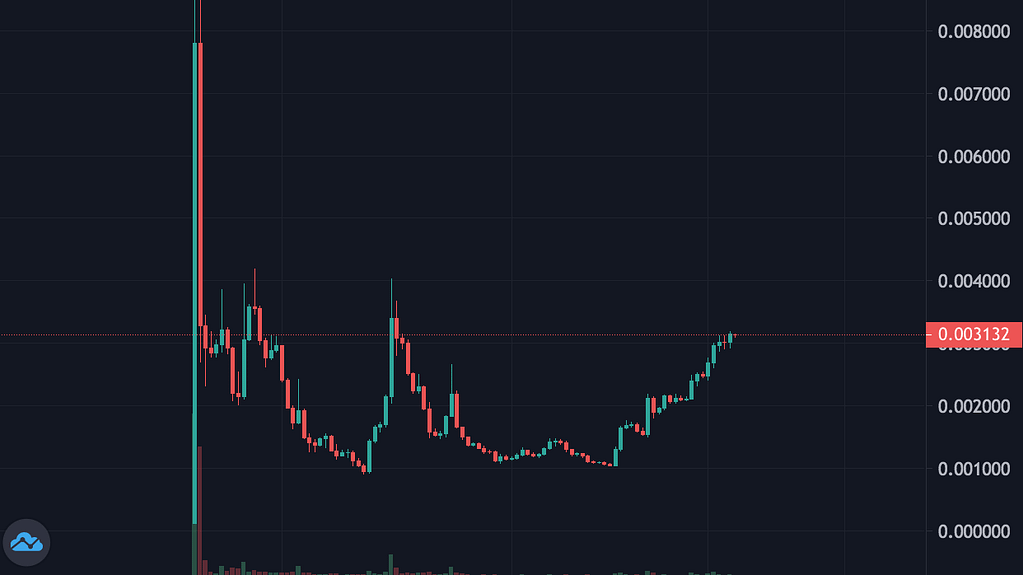 Generally traders will wait until the price makes a higher high for the first time after a down trend to enter. That would look like this: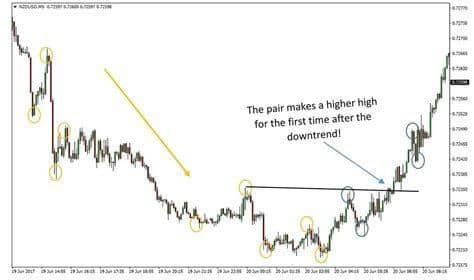 Tip 10 — Join our Telegram Group
Hang out in our Telegram chat, as users often talk about tokens they're interested in
Our community is growing rapidly and there are lots of knowledgeable and helpful people in our Telegram community!
Please join here: https://t.me/listingspynet
We also suggest you consider signing up for our EXCLUSIVE plan which will allow you direct access to our Private Telegram chat. In this private group you'll be able to discuss hidden gems and profitable tokens with the ListingSpy team and other Exclusive members of our community.
Sign up here: https://listingspy.net/plans
Wrap Up
Now that you've got the lowdown on ListingSpy and how to use it, go out and Spy some gems!
We've got lots in store for the future of ListingSpy, so make sure you stay up to date by following our Twitter: https://twitter.com/ListingSpy
And of course, join our Telegram chat group: https://t.me/listingspynet
Disclaimer:
All material presented within this article is not to be regarded as investment advice, but for general informational purposes only. Investing does involve risk, so caution must always be utilized. We cannot guarantee profits or freedom from loss. You assume the entire cost and risk of any trading you choose to undertake. You are solely responsible for making your own investment decisions. We recommend consulting with a registered investment advisor, broker-dealer, and/or financial advisor. If you choose to invest with or without seeking advice from such an advisor or entity, then any consequences resulting from your investments are your sole responsibility.