Crypto Ads

with great results

We offer a variety of Native Ads formats to help you promote your crypto project.
Get thousands of new crypto users to your website with CPC as low as $0.10-$0.30
Advertisement Types
All the sponsored content looks natural and adds to the user experience.
See the promo options that we offer below. Places are limited!
Featured listing in DEX table
Your project pinned to the top of the table on our most popular pages with DEX new listings.
Your website, blog, links to all your social networks, and DEX swap page (or other place to buy your token) are all just one click away.

Your project is always at the best location, seen daily by thousands of crypto users!
Featured listing in IDO table
We will pin your project at the top of the table on our popular IDO List page (Active or Upcoming) with all the links to your social networks, etc.
This offer is perfect for you if you are raising funds.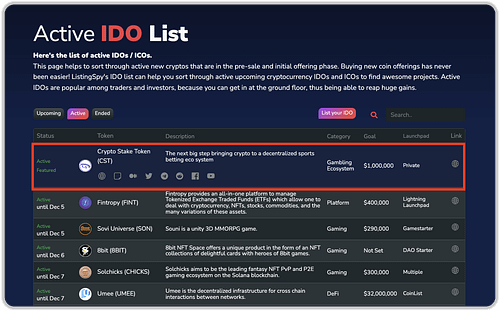 Header text ad
Reach users with a punchy text ad.
Your sponsored ad text is shown in a non-intrusive and clean way above the table on the relevant ListingSpy DEX page.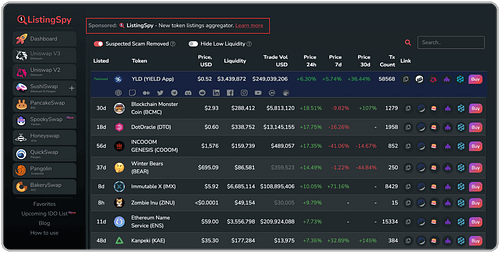 Crypto banner
We will place a crypto banner of your project on our main page and/or some other ListingSpy pages.
Get the banner ad together with Featured listing for the best results!
Promotion in our social networks or to the email subscriber base
We will mention your project to our active and constantly growing audience.
Currently we have over 9,000 email subscribers and ~10,000 in all our social media and communities.
Contact us
Please reach out to get all the details and prices of our advertising options.