With all the new features that ListingSpy has to offer we decided it would be helpful to make a short tutorial on how to get the most out of ListingSpy.
We want you to find the next hidden gems, big runners, and make profit!
In this short guide we'll walk you through the basics of how to to use ListingSpy, plus some tips and tricks for finding crypto tokens!
Column Header (Sort tokens)
Use this Column Header bar to sort the tokens by time listed, trade volume, TX count, price, or price change. Simply click on the text and it will sort all the tokens for you!
Sort by NEW listings or TOP tokens

Use the top tabs to filter tokens by new listings or Top Tokens.
Top tokens are the most traded and highest volume tokens within the last 24 hours.
Dashboard View
See the latest listings on top DEXs in real-time with Dashboard view.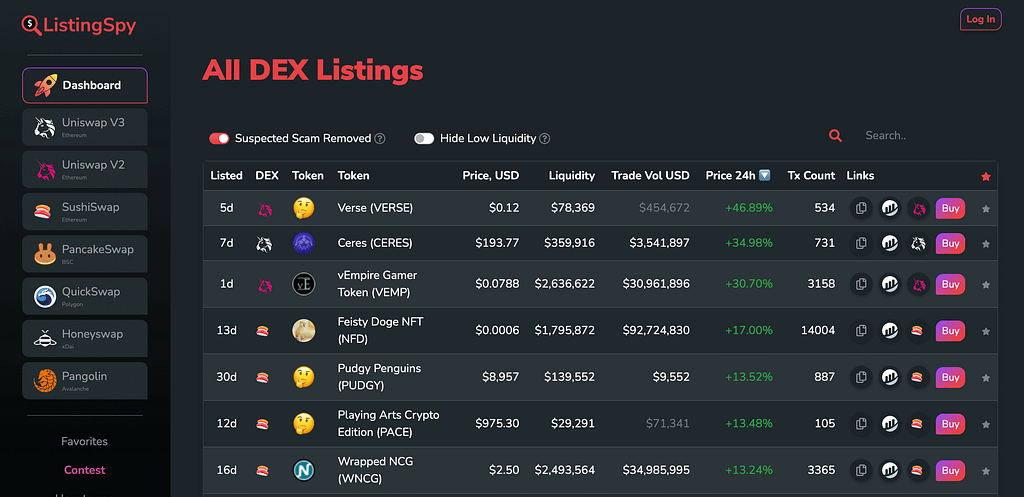 The dashboard allows you to see all new listings across all major DEXs. It aggregates all the listings across; Uniswap V2, Uniswap V3, SushiSwap, PancakeSwap, QuickSwap, Honeyswap, and Pangolin into one convenient and easy to use locale.
Scam Filter

Easily filter suspect scam tokens with the flip of a switch. These tokens are removed based upon low trading volume, transaction count, holders, and liquidity.
PLEASE NOTE! — this scam filter is NOT perfect and many scams may still appear, we suggest you do your own due diligence before considering any token.
Improvements to the filter, that will scan the actual contracts for various scammer tricks, is already under development.
Low Liquidity Filter

With the help of this filter you can quickly reduce the number of new tokens on PancakeSwap for you to analyze from ~2,600 to a few hundred.
All the $0 liquidity (and other low liquidity) tokens will not be displayed!
Search for specific token

You can easily find tokens by name or ticker code by using the search function. In this example, when searching for any new tokens with doge in their name, the table will show all the latest listings. Keep in mind that the older tokens or established projects may not display in this search result.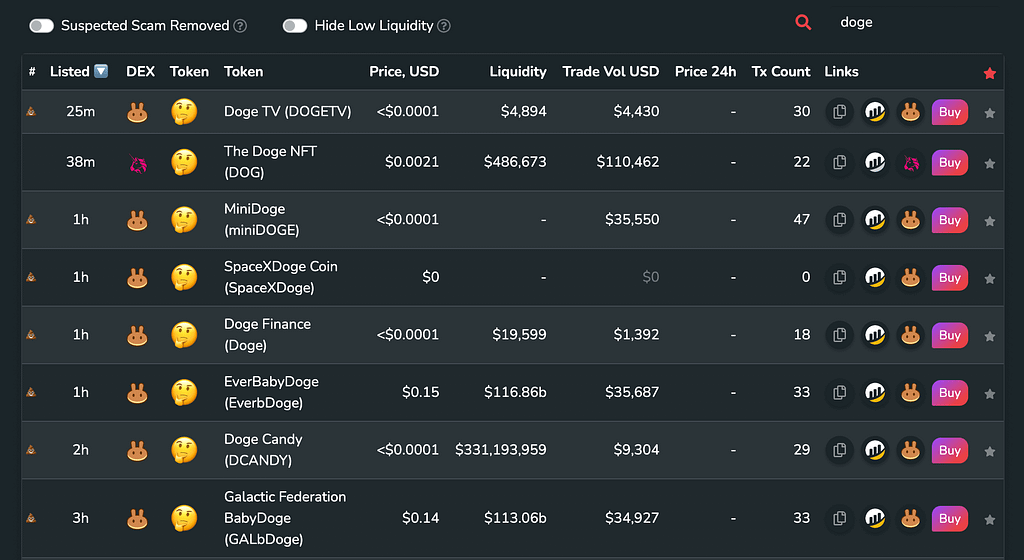 Copy contract address, Go to token explorer, View token data, Buy token

Use these buttons to access token information, view the blockchain explorer, see data on the actual DEX, view token charts, or to buy the token directly on the DEX such as Uniswap or PancakeSwap.
Favorites
Use the STAR next to tokens to add them to favorites:
Alternatively you can add tokens to your favorites/watchlist by entering the token contract address and selecting the DEX where it is listed: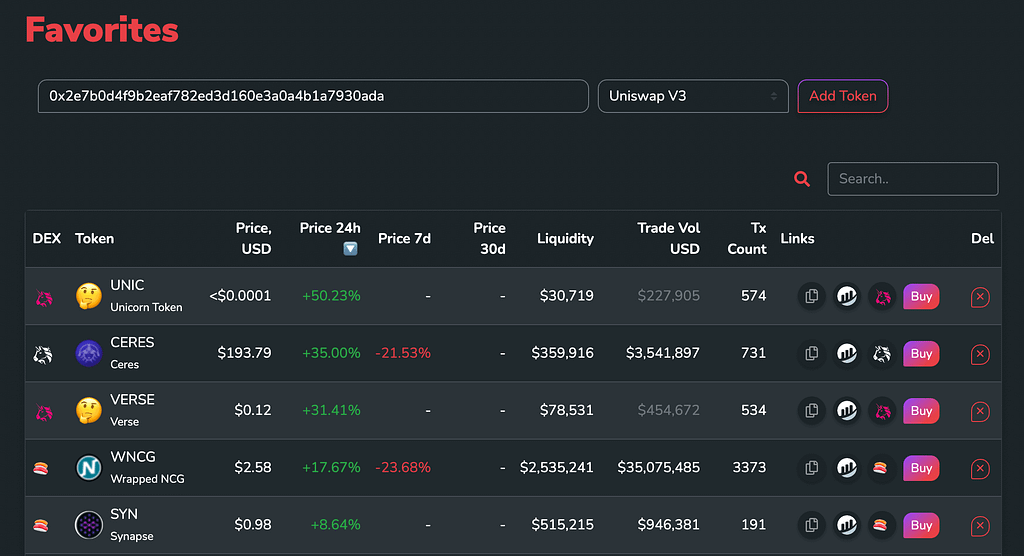 DeFi News aggregator from the highly-respectable websites
Stay up to date with our DeFi news aggregator, never miss important news!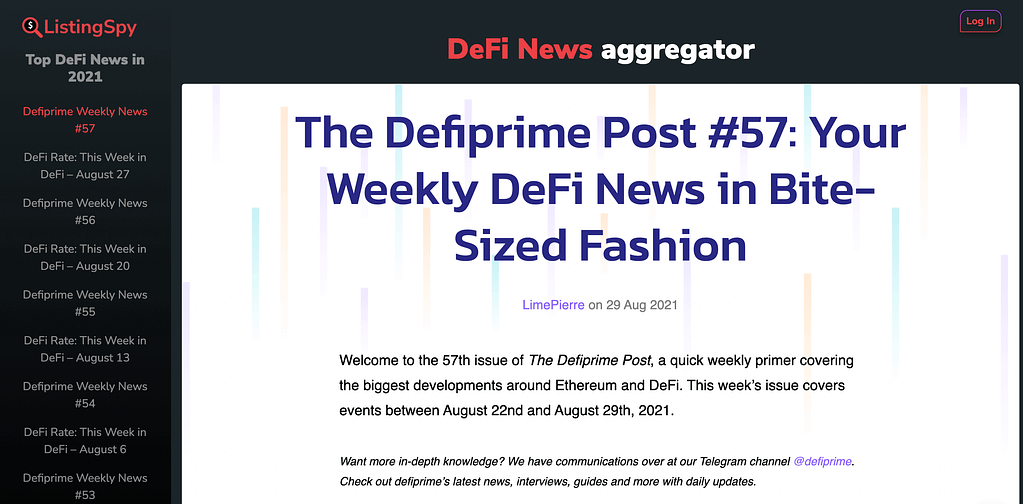 Wrap Up
Now that you've got the lowdown on ListingSpy and how to use it, go out and Spy some gems!
We've got lots in store for the future of ListingSpy, so make sure you stay up to date by following our Twitter.
And of course, join our Telegram chat group.
Disclaimer:
All material presented within this article is not to be regarded as investment advice, but for general informational purposes only. Investing does involve risk, so caution must always be utilized. We cannot guarantee profits or freedom from loss. You assume the entire cost and risk of any trading you choose to undertake. You are solely responsible for making your own investment decisions. We recommend consulting with a registered investment advisor, broker-dealer, and/or financial advisor. If you choose to invest with or without seeking advice from such an advisor or entity, then any consequences resulting from your investments are your sole responsibility.